Experience the Magic of Homemade Horchata Latte
Hey there! This page may contain affiliate links meaning that if you choose to make a purchase, we'll earn a small commission at no extra cost to you.
Making your own horchata latte at home is an easy way to make the most of this delicious recipe. All you need are a few ingredients and a blender, and voila. 
You can customize it to suit different diets, allergies, or preferences by using alternative sweeteners like honey or agave nectar or adding a dollop of whipped cream for extra indulgence. 
Not only will you have an irresistible treat, but you'll also be nourishing your body with essential minerals and vitamins thanks to the natural ingredients in this recipe. So, why not try it and experience the magic of this homemade delight? You won't regret it.
What Is The Origin of Horchata Latte?
Horchata Latte is a modern twist on the traditional Latin American beverage, horchata. Horchata originates in Valencia, Spain, and dates back to the 13th century. It was traditionally made with tiger nuts, small root vegetables native to North Africa. The ingredients were ground up and mixed with water, sugar, and cinnamon before being served over ice.
It takes this traditional beverage into a creamy and indulgent espresso-based latte. The original horchata beverage is made with rice milk, but the horchata latte uses almond milk for a more contemporary twist. Some versions of the beverage also add a hint of vanilla extract, giving it a sweet and fragrant flavor.
Does Horchata Latte Have Caffeine?

No, the horchata latte does not contain any caffeine. Traditionally, horchata is made with rice milk, cinnamon, and almonds. This creamy drink does not contain any coffee or tea leaves that would provide it with caffeine.
However, some modern variations of the traditional recipe may replace rice milk with cow or almond milk and add some espresso or strong tea to the drink. If you suspect your horchata latte contains caffeine, ask your barista for more information.
Is Drinking Horchata Latte Healthy?

Although the horchata latte does not contain caffeine, it is important to note that it may contain other ingredients that are not considered healthy. Traditional horchata lattes will be made from cow or almond milk, which is both high in calories and fat. This can make the drink a less-than-ideal choice for dieters.
Additionally, many recipes also call for added sugar to sweeten the drink, which can further contribute to its overall calorie count and make it a less-than-ideal choice for those looking to maintain a healthy diet. Those looking to enjoy a healthier version of the horchata latte should opt for an unsweetened version with no added sugar.
Overall, drinking horchata lattes can still be a part of a healthy diet depending on other factors such as the type of milk used, whether or not any sweeteners are added, and how much is consumed. It's important to remember these considerations when deciding if the drink is right for you.
How To Make Horchata Latte Easily At Home?
Ingredients:
Uncooked white rice
Cinnamon stick
Milk of choice
Sugar or sweetener of choice
Ground cinnamon
Vanilla extract
Salt
Ground nutmeg
Hot water or espresso for serving (optional)
Why Does This Ingredient Work for This Recipe?
Rice is an ideal ingredient for this recipe because it contributes to the creamy and smooth consistency of the horchata latte. When it is ground up, rice adds a subtle nutty flavor while also thickening the mixture without making it too dense. Rice also contains essential vitamins and minerals that can help nourish your body as you sip on this delicious beverage.
It is also a great source of energy which can help keep you energized and going throughout the day. Additionally, its neutral flavor makes it the perfect ingredient to balance out all the sweet and spiced flavors in this recipe. Rice is a versatile ingredient that can make your horchata latte even more delicious and nutritious.
Substitutions
If you need to make substitutions for any of the ingredients in this horchata latte recipe, there are plenty of options that will still yield a tasty and delightful drink. You can use almond milk instead of dairy milk for a vegan-friendly option or switch out coconut milk for added sweetness. You can substitute honey or agave nectar for the sugar to make it a diabetic-friendly recipe.
If you want to switch up the spices, feel free to experiment with combinations of cinnamon, cardamom, and other warming flavors like ginger. If nut allergies are an issue in your household, you can leave out the nutmeg altogether or opt for a sprinkle of ground chia seeds for a nutty flavor without the nut. No matter what you choose, there is sure to be a delicious combination that will satisfy your craving for this creamy and comforting drink.
Instructions
In a blender, add the uncooked white rice and cinnamon stick. Blend for 1 minute until finely ground.
Add the milk of choice and blend for 30 seconds to combine the ingredients.
Add the sugar or sweetener, ground cinnamon, vanilla extract, salt, and nutmeg. Blend for 1 minute until all ingredients are combined.
Pour through a fine mesh strainer into a pitcher or large bowl to remove any lumps or chunks. Discard solids that remain in the strainer.
Transfer the horchata latte to a mason jar or airtight container and store it in the refrigerator for up to 3 days.
When ready to serve, add the desired amount of hot water or espresso (optional).
Garnish with extra ground cinnamon or freshly grated nutmeg if desired.
Serve cold or hot, and enjoy.
Storage instructions
To store the horchata hatte:
Transfer it to an airtight container and place it in the refrigerator. The latte can be kept refrigerated for up to 4 days.
If you want to enjoy the drink hot, heat it using a microwave or stovetop before serving. You can also freeze individual servings of horchata latte, but it should be consumed within two months.
For a longer shelf life, try freezing the latte in ice cube trays so that it is ready to use whenever you need a quick pick-me-up.
Conclusion
The delicious and comforting beverage can easily be customized to suit different dietary needs or preferences. Its subtle nutty flavor, energizing vitamins and minerals, and creamy texture make it the perfect drink to enjoy on any occasion.
Whether you're looking for an indulgent treat or a healthier option, this horchata latte recipe will satisfy your craving. Give this recipe a try and enjoy the flavors of Mexico in a cup.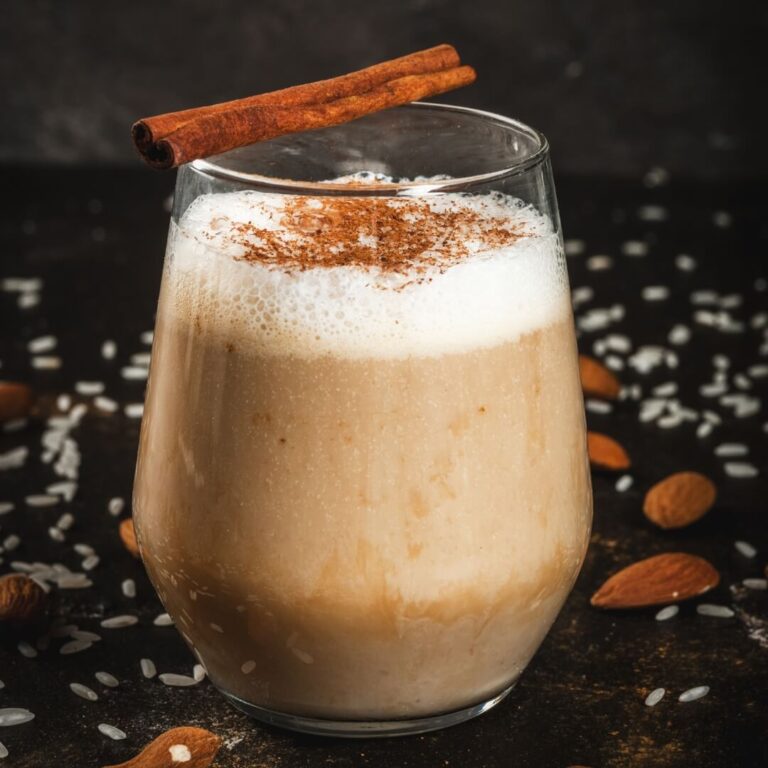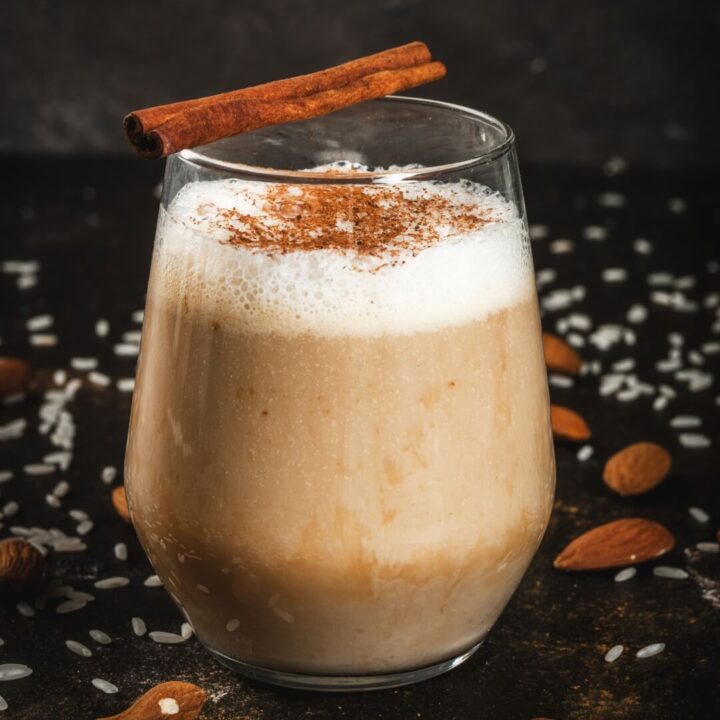 Tasty Horchata Latte Recipe
Additional Time:
3 hours
30 minutes
Total Time:
4 hours
10 minutes
This Horchata Latte is a creamy and comforting beverage that combines traditional Mexican spices with dairy-free milk for an indulgent treat. This easy-to-make recipe can be customized to suit different dietary needs or preferences, making it the perfect drink to enjoy on any occasion. This latte will surely be a hit with its subtle nutty flavor, energizing vitamins, and minerals.
Ingredients
1 cup of dairy-free milk
2 tablespoons of uncooked white rice
1 tablespoon of sugar
½ teaspoon ground cinnamon
¼ teaspoon ground nutmeg
¼ teaspoon vanilla extract
Instructions
Soak the rice in a bowl of cold water for 1 hour.
Strain and rinse the soaked rice until the water runs clear before blending it into a smooth paste with ½ cup of dairy-free milk.
Transfer the paste to a saucepan and add the remaining ½ cup of dairy-free milk, sugar, cinnamon, nutmeg, and vanilla.
Cook the mixture over medium heat for 8 to 10 minutes until thick and creamy.
Transfer the Horchata Latte to a mug, then enjoy.
For extra indulgence, top with whipped cream and ground cinnamon or nutmeg.
Notes
If the Horchata Latte is too thick, add more dairy-free milk until it reaches your desired consistency.
Use coconut or almond milk instead of regular dairy-free milk for a richer flavor.
For a diabetic-friendly recipe, you can also replace sugar with honey or agave nectar.
Feel free to experiment with spices such as cardamom or ginger for a unique flavor.
If nut allergies are an issue, you can omit the nutmeg and use chia seeds instead for a nutty taste without the nuts.
Top with whipped cream and ground cinnamon or nutmeg for an extra indulgence.
Nutrition Information
Yield

1 Cup
Serving Size

1 Cup
Amount Per Serving
Calories

160
Total Fat

2.3 g
Net Carbohydrates

27g
Protein

2.6g